The cherry blossoms usually bloom in the last week of March and the first two weeks of April in Kyoto.

Barring any prolonged cold spells, the trees in Kyoto are likely to reach full bloom in early April.
Japan's meteorological agency announced that the cherry blossoms started opening around in Kyoto.
The blooms peak will be on April 5th.
Since cherry blossoms typically only stay on the trees for around ten days, or two weeks at most, everyone in Japan checks the cherry blossom forecast in springtime.
That way, they can enjoy the cherry blossom season at its peak.

The ancient city of Kyoto bustles with tourist activity during cherry blossom season.
If you avoid the crowds, we recommend you to visit the spots around 7:00 a.m. or just before the close hour of shrines and the temples.

This time, we'd like to share some free cherry blossoms spots in Kyoto.
You would enjoy walking around there.

1.Philosopher's Path (哲学の道, Tetsugaku no michi)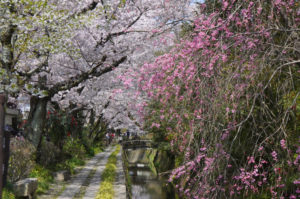 The Philosopher's Path is one of the famous cherry blossoms spots in Kyoto and gets its name due to one of Japan's famous philosopher.
Approximately 2 km long, the path begins around Ginkakuji (Silver Pavilion) and ends to the area of Nanzenji.
500 cherry blossoms are along the canal and it makes a sakura tunnel.

Place:
The path runs between Ginkakuji and the neighborhood of Nanenji.

Access:
City Bus Head to Kiyomizudera, Gion, Ginkakuji (Line 100),
In front of the bus stop "Ginkakuji-mae"

Other cherry trees spot of vicinty:
Anrakuji temple, Nanzenji temple
2.The Keage Incline (蹴上インクライン)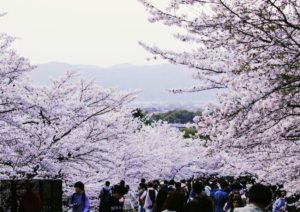 The Keage Incline shows us a breathtaking scenery, with beautiful rows of cherry blossom trees on both sides of the railroad tracks.
The slope is 582 meter long with railroad tracks and this length is the longest in the world.
There are 90 cherry trees around there and the area is loved by locals and tourists.
During the cherry blossom seasons, there must be a lot of people even before dawn!

Place:
〒605-0044 339, Higashi Komonoza cho, Higashiyama ku, Kyoto

Access:
3 minute walk from Tozai Subway Line

Other cherry trees spot of vicinty:
Shogo'in monzeki, Heianjingu
3.Gion Shirakawa(祇園 白川)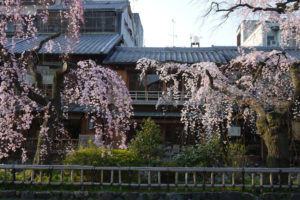 Gion is Kyoto's most famous geisha district, located around Shijo Avenue between Yasaka Shrine in the east and the Kamo River in the west.
Gion attracts tourists with its high concentration of traditional wooden machiya houses.
Shirakawa Area runs along the Shirakawa canal parallel to Shijo Avenue.
The canal is lined by willow trees and cherry trees.
The trees get lit up at 18:00~22:00, from March 29th to April 7th.

Place:
〒605-0084 Gion, Higashiyama ku, Kyoto

Access:
3 minute walk from "Sanjo keihan"st. on Tozai subway line
7 minute walk from "Gion" by city bus

Other cherry trees spot of vicinty:
Kodaiji temple, Maruyama Park, Kiyomizudera temple
4. Kiyamachi dori and Takasegawa river(木屋町 高瀬川)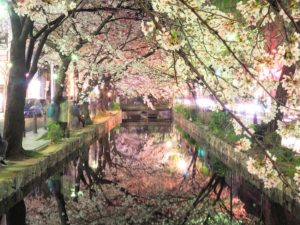 Approximately 200 cherry blossoms are along the Takasegawa river, which runs through Gojo street to Shijo street.
This area is a picturesque street area and you'll find some of Kyoto's best nightlife.
It's great to explore along the river or having dinner with watching blooms at night.
Kiyamachi street also get lit up at night from the end of March to early April.
The reflection of river must catch your eyes.

Place:
〒604-8016, Kiyamachi dori, Shimokoriki cho, Nakago ku, Kyoto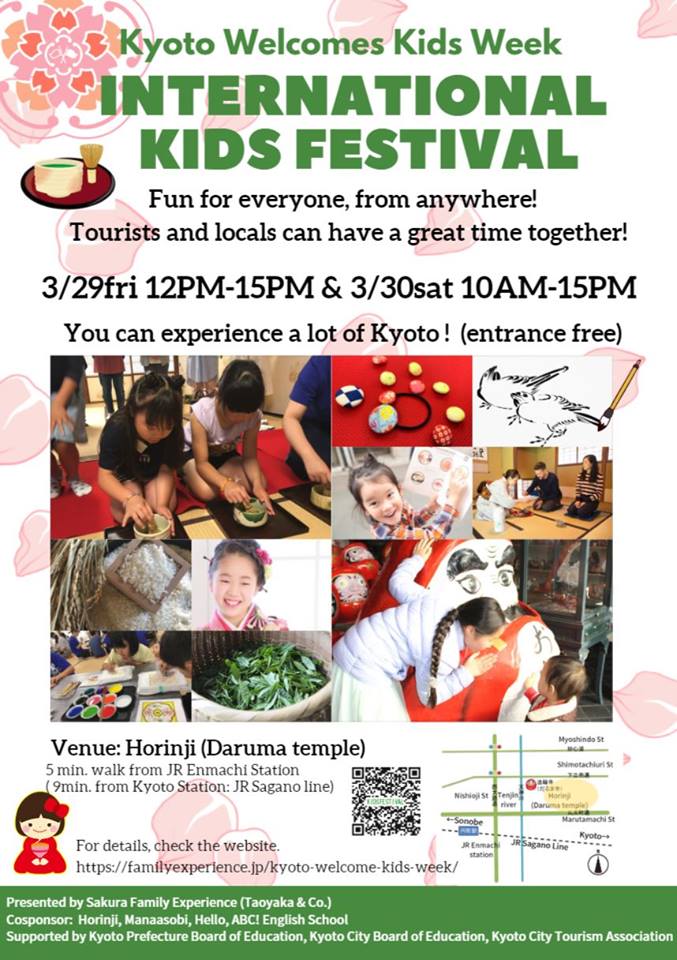 Do you need more information?
You should receive such local information of Kyoto by an application "KoI APP".
With this application, even if you don't have Wi-Fi, you can find nearby stores and so on.
You can install the application from the following URL.
Android app「KoI Service」
iPhone app「KoI Service」