Are you looking for any events something unique in Kyoto?
This weekend, Jyonan-gu Shrine(in Southern Kyoto) is going to hold a unique ceremony.
It is called Yudate-kagura (Yutate-kagura). Kagura is one of Japanese traditional dance forms. This rite is that Miko (Shrine maiden) boil some water in a caldron and dedicate kagura dance to a god, then splash the hot water on people around there to purify them. If people are got splashed, he/she won't get sick in this year.

Yudate-kagura at Jyonan-gu Shrine
In this ceremony, 4 miko dedicate Kagura-dance to a god as a pray.
Next, one of them put some salt and sake in a caldron to purify some boiled water.
Then, she soaks some bamboo grasses in the water and energetically put it out to expel evil spirits and pray for good health and realization of a great whish.
She splashes some boiled water to people around her and visitor are got splashed and pray for it. After this ceremony, visitor can buy the bamboo grasses.
For your information, an animated film "Sen to Chihito no Kamikakushi (Sprited Away)" is a motif of Yudate-kagura in Nagano. If you are interested in Japanese culture, you should check it.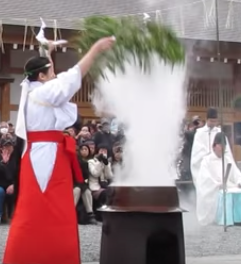 Why the ceremony needs some boiled water?
According to one report, people in old times feels functions of spirit and read a god's thought in a movement of boiled water. Originally, A word "tate" of "Yudate" means "appearance" in Japanese. That means people tried to feel an appearance of god in visible way. Ancient people felt life force with the sound of boiled water and see the action of a god in the steam.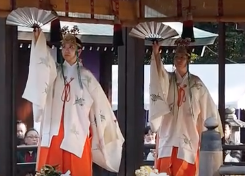 Place:
Jonan-gu Shrine
Adress:
7 Nakajima tobarikyu, Fushimi ku, Kyoto City
Admission:
General Admission is Free.
Hours :
14:00~
Transportarion:
・Kintetsu Line→Takeda Station→ 15-20 minutes walking
・Karasuma Subway*Takeda Station 15-20 minutes walking
・Takeda Station Exit 4 City Bus 南1,2,3(South)→Jonan-gu Higashiguchi Bus Stop
・Kyoto Station Karasuma Exit Boarding Area C4 City Bus 19 for Jonan-gu


Do you need more information?
You should receive such local information of Kyoto by an application "KoI APP".
With this application, even if you don't have Wi-Fi, you can find nearby stores and so on.
You can install the application from the following URL.
Android app「KoI Service」
iPhone app「KoI Service」