Actually,there are a lot illumination spots for Christmas in Kyoto.
This time, I'm going to tell you about TOP 3 of illumination spot.
Especially for a traveler, I narrowed down the conditions like followings.
・Close to a station
・Admission Fee is Free
・Fantastic Scenery


☆ Kyoto people chose as a favorite illumination spot in Kyoto☆
ROHM Co., Ltd., Semiconductor company, holds this event as part of social contribution activity.
It is the Kyoto's best seasonal illumination event with 86 thousands lights
covering around the company.
Bayberries, a symbol tree, welcome you with joyful same as its flower language; " with all one's heart"
The event is located along street with 20 Metasequoia trees, which are decorated one by one.
It is particularly popular and attractive display full of light.

Days:
November 22nd~December 25th

Place:
21 Saiinmizosaki-cho Ukyo-ku Kyoto-city
( 15 minutes on foot from Saiin station or Nishi Kyogoku station on Hankyu Line.
15 minutes on foot from Tanbaguchi station or Nishi Oji station on JR line)

Hours:
16:45~22:00


☆Recommend couples! You can enjoy romantic date.☆
The Kitayama Illumination stretches almost the entire length of the 300m long (984.24 ft) Kitayama Street. This year's theme is "So Happy!"
The buildings with European style and warm shimmer of candles create a festival atmosphere.
Can't miss the events like a gospel concert.

Days:
December 1st~ 25th *Tuesday Off (Except Dec.25th)

Place:
1-7 Mstsugasakiimakaido-cho Sakyo-ku Kyoto-city
(Right in front of Matsugasaki station on Kyoto Municipal Subway)

Hours:
17:00~22:00


☆Be aware of passing! The Big Christmas tree with 22m!☆
Where is the station that traveler use to visit Kyoto?
Right, Kyoto station!
You can see the big Christmas tree at such a convenient place.
This year is 60th anniversary year that Kyoto City entered into a friendship treaty with Paris.
One of the main attraction is a pedestal made of flowers and colored in tricolor style.
There must be crowded, but don't worry, you can enjoy seeing on steps.

The event is held on 4F in Station Building.
There is an open space and stairs, you might think"oh, There seems nothing from the top…"
I recommend you to go up the stairs.
Then, you can see some fine view.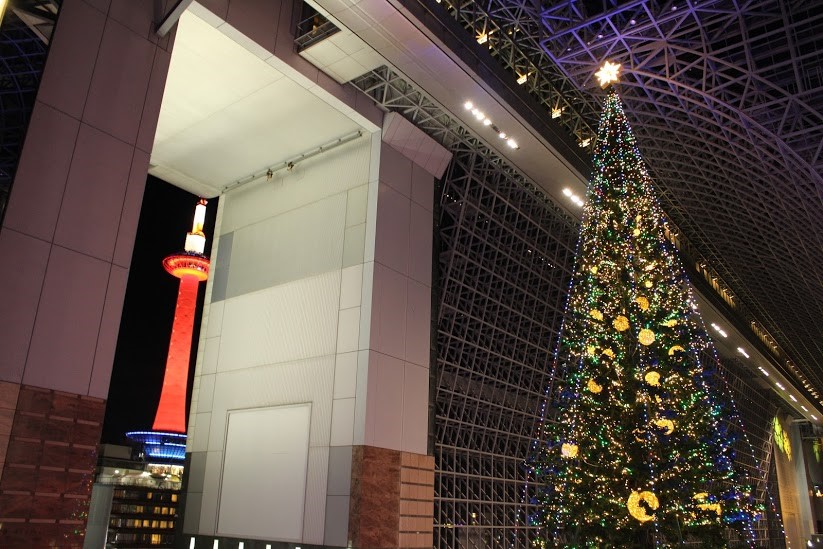 Christmas tree and Kyoto Tower




Double Big Christmas Trees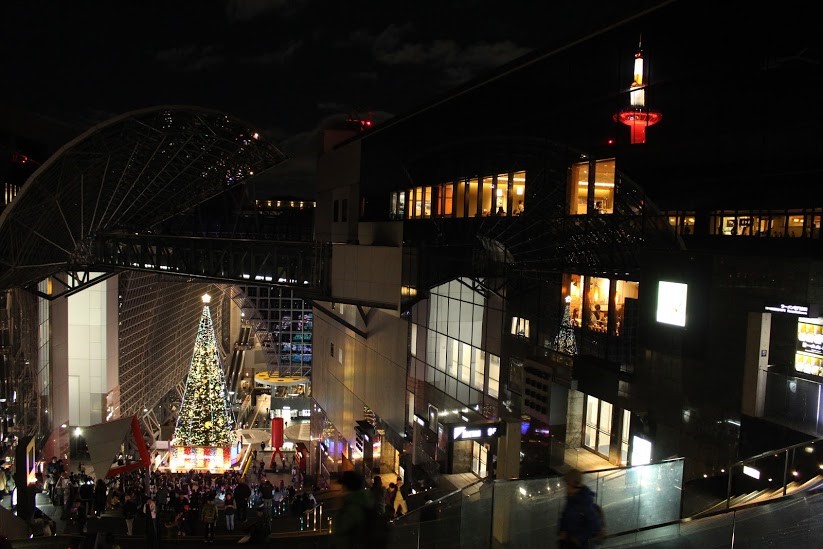 Christmas tree and Kyoto Tower


Do you need more information?
You should receive such local information of Kyoto by an application "KoI APP".
With this application, even if you don't have Wi-Fi, you can find nearby stores and so on.
You can install the application from the following URL.
Android app「KoI Service」is here.
iPhone app「KoI Service」is here.