It is famous for autumn leaves in Kyoto.
It's getting colder and colder, and the leaves have starting to change colors.
We think many people know about autumn leaves in Kyoto City, so this time, we would like to introduce the autumn leaves that you can enjoy in Miyazu City, in Kyoto by the sea.
Nariai-ji Temple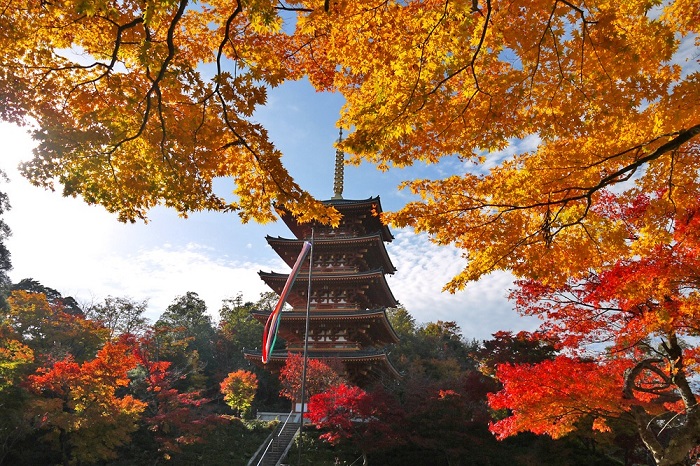 A whole view of Amanohashidate, one of the three most scenic spots in Japan, can be viewed from Nariai-ji Temple.
You can enjoy scenery in all seasons at Nariai-ji Temple, and in autumn season enjoy the most beautiful scenery.
The scenery of the main hall and the 33-meter-tall five-storied pagoda, decorated with red, yellow, and orange leaves, is beyond a doubt the best part.
There is a Bentenyama observatory that overlooks Amanohashidate, and from that observatory you can see both autumn leaves and the sea at the same time.
You can't enjoy both autumn leaves and sea at the same time in Kyoto City, but can enjoy them in Miyazu City.
Please enjoy <autumn leaves with a view of the sea> that can only be seen here.
You can also enjoy the fantastic view at night when the autumn seasonal illumination event is held. (*No event information for 2022)
Nariai-ji Temple is also famous for "a temple where your wishes will come true".
A long time ago, a monk suffered from hunger during his training and prayed, "Please give me some food." Then, the goddess of Nariai-ji Temple gave him foods. This story is the origin of the name Nariai-ji Temple.
The principal object of worship at Nariai-ji Temple is the Sacred Avalokitesvara, also known as " a god disguised as a beautiful woman ",and it is said to be " a beauty power spot" where you can be beautiful in body and mind if you visit.
Information of Nariai-ji Temple
Location: 339 Nariaiji, Miyazu City, Kyoto
Visiting hours: 8:00-16:30
Entrance fee: 500 yen for adults, 200 yen for high and junior high school students, free for children below elementary school age.
Access:(1)About 25 minutes by taxi from Amanohashidate Station (2)About 50 minutes by boat and by Cable Car and by Climbing Bus from Amanohashidate Station
Kasamatsu Park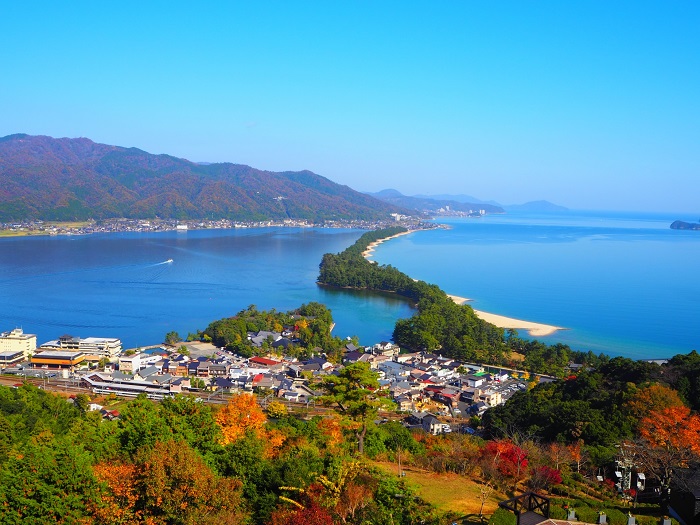 At Kasamatsu Park, you can enjoy <autumn leaves> and <Amanohashidate>.
This park is located on the way to Nariaiji Temple, and is an observatory where you can see Amanohashidate, one of the three most scenic spots in Japan, from the north side.
There are various spots where you can enjoy a spectacular view of Amanohashidate, from the Sky Deck which has glass floors and handrails, and from the Colosseum like a circular theater space.
The view from Kasamatsu Park is called "Shoryukan" because Amanohashidate looks like a rising dragon.
It is also famous as the birthplace of "Mata Nozoki", which means you see Amanohashidate from between your legs.
It is also recommended to use the lift, becouse you can enjoy the scenery of <Autumn leaves> and <Amanohashidate> while feeling the autumn wind on your skin.
Information of Kasamatsu Park
Location: Ogaki, Miyazu City, Kyoto
Business hours: 9:00-17:30 (*changes depending on the season)
Operating hours: (1)Cable car: 9:00-17:00 (2)Lift: 9:00-16:00 (*Closed from December to February)
Cable car or lift fare: 680 yen for adults (round trip), 340 yen for children (round trip)
Access: (1)About 25 minutes by route bus from Amanohashidate Station (2)About 17 minutes by Sightseeing boat and walking from Amanohashidate Station.
HP: https://www.amano-hashidate.com/
About sightseeing spots in Kyoto by the Sea (northern part of Kyoto Prefecture), we will introduce them during six months.
Please check the latest information on the official website before going out.