Speaking of autumn in Kyoto, the illumination of autumn leaves has become a beautiful season.
The fantastic space of colored autumn leaves and pale lights will soothe your heart.
There are many temples and shrines where the autumn leaves are beautifully lit up from this time to the beginning of December, but this time we will introduce three illuminations of the autumn leaves that are not temples and shrines.
Sagano trolley train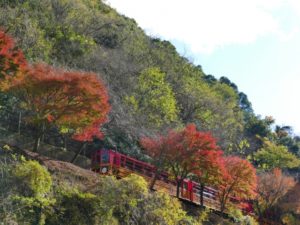 The Sagano trolley train that connects Saga-Arashiyama and Kameoka in Kyoto, the clear air and the trees of the mountains bloom according to the season no matter what season you ride.
Why don't you spend some time watching the illuminated autumn leaves while being shaken by the truck train even in this chilly season?
【Basic information】
Light-up period: October 15th-December 29th
Light-up time: 16: 30-last train
Fare: Adults 630 yen: Children 230 yen
Operation status: In addition to normal operation, there are also special trains during this period.
Degree of autumn leaves as of the posting date: Beginning of coloring
Around Arashiyama Kangetsukyo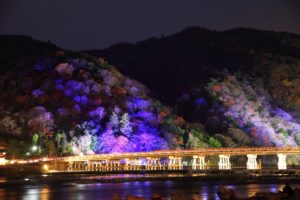 The area around the Kangetsu Bridge in Arashiyama, one of Kyoto's famous tourist destinations, will be lit up in mid-December.
It was held under the name of "Kyoto Arashiyama Hanatouro-2021" and is said to be the last in this year, which is the 20th year.
A light-up of the "Bamboo Forest Path", which was canceled last year, is also scheduled to be held. If you have time, why not take a leisurely stroll around the area and enjoy yourself?
【Basic information】
Light-up period: December 10th to December 19th
Light-up time :17: 00-20: 30
The degree of autumn leaves as of the posting date:Beginning of coloring
"Autumn leaves tunnel" by Eizan train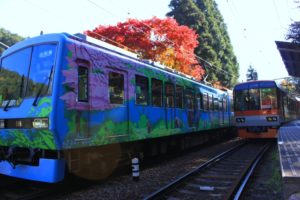 The autumn leaves in the Kibune area are famous for being lit up, but there is a "autumn leaves tunnel" between Ichihara Station and Ninose Station between Demachiyanagi Station and Kibune Exit on the Eizan train.
At the "Autumn Leaves Tunnel", you can slow down and enjoy the illuminated autumn leaves. If you want to enjoy the autumn leaves in the Kibune area, it might be a good idea to go by Eizan train.
【Basic information】
Light-up period: November 25th-December 1st
Light-up time: Please check the timetable.
Fare: Varies depending on the section
Operation status: Pay attention to the timetable
Autumn leaves as of the date of posting: Best time to see
In addition, the light-up period and light-up time may change. Please check the latest information on the official website before going out.