Kyoto was the ancient capital of Japan from 794 to 1868, a time when Japanese culture and traditions flourished. Today it is known for its historic and cultural value with thousands of temples, shrines and priceless national treasures. And also Kyoto has one of the world's largest collections of UNESCO World Heritage Sites. No trip to Kyoto would be complete without visiting some of them.
There are some regulations and criteria for the designation of UNESCO World Heritage Sites, but the important thing is how Kyoto illustrates the development of Japanese wooden architecture, particularly religious architecture, and the art of Japanese gardens, which has influenced landscape gardening the world over.
Kyoto UNESCO World Heritage Sites
Here, we've ordered all of Kyoto's 17 World Heritage Sites in order of how easy to access each one is. Of course, this is a highly subjective list, but it's based on several even dozens of visits to each one.
The list of Seventeen Kyoto UNESCO World Heritage Sites
Byodoin Temple
Ujigami Shrine
Daigoji Temple
Nijo Castle
Nishi Hongaji Temple
Toji Temple
Saihoji Temple
Tenryuji Temple
Kosanji Temple
Ninnaji Temple
Ryoanji Temple
Kinkakuji Temple
Kamigamo Shrine
Shimogammo
Hieizan Enryakuji Temple
Ginkakuji Temple
Kiyomizu Temple
Nijo Castle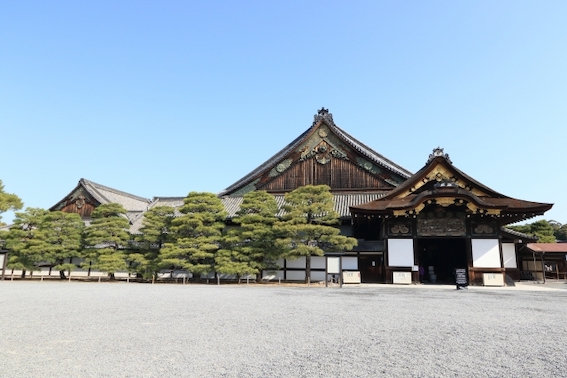 Nijo Castle was built in 1603 on the orders of the first Shogun of the Tokugawa. He unified Japan after a long period of civil war and ushered in a period of over 260 years of peace and prosperity. The government that Tokugawa established lasted for fifteen generations and was one of the longest periods of stability and prosperity in Japanese history.
The gorgeous style of the castle was intended to show their power and make the feudal lords contribute to their Shogun. Thus, the wide moat, massive stone walls, and heavy yet elaborate gates are still impressive. Nijo Castle can be divided into three areas: the Honmaru, the Ninomaru and some gardens that encircle the Honmaru and Ninomaru.
In 1867, the Ninomaru Palace, in the Outer Ward, was the stage for the declaration by the last Tokugawa, returning the authority to the Imperial Court. The castle is an excellent example of social control manifested in architectural space. Low-ranking visitors were received in the outer regions of the Ninomaru, whereas high-ranking visitors were shown the more subtle inner chambers. You can see what is lent itself to expressing intimidation and power to Edo-period visitors.
【Information】
Address:
541 Nijojo Cho, Nijo-Dori Horikawa Nishi-iru, Nakagyo Ku, Kyoto 604-8301
Access:
A short walk from "NIjo-jo mae" bus stop on the Kyoto Bus #9,20,101,111 at Kyoto Station
A 17-minute walk from "NIjo mae " St. on the JR line
Time:
8:45 ~ 17:00 (October to June)
8:00 ~ 18:00 (July and August)
8:00 ~ 17:00 (September)
Admission ends one hour before closing time
Entry to Ninomaru Palace from 8:45 to 16:10 (until 17:10 in July and August)
Admission Fee:
1,030 yen (Adult), 350 yen (Older than 12-year old ), 200 yen (Younger than 12-year old)
Nishi Honganji Temple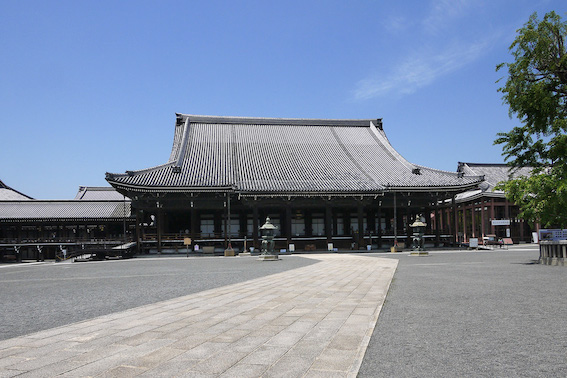 Nishi Honganji Temple is one of two Jodo Shin Sect temple located northwest of Kyoto Station with many profound buildings of historical and architectural significance. As headquarters of the Jodo-Shin Sect, one of Japan's largest Buddhist sects, it is a good place to experience contemporary Japanese Buddhism.
Nishi Honganji's two largest structures are the Goeido Hall, dedicated to Shinran, the sect's founder, and the Amidado Hall dedicated to the Amida Buddha, the most important Buddha in Jodo Shin Sect. You can see the difference between the Amida hall and the Doeido hall on the point of the architecture. Amida is more important than the other one, so its hall and gate are the most formal style.
【Information】
Address:
Horikawa‐Dori Hanaya‐cho sagaru, Shimogyo‐ku Kyoto
Access:
A short walk from "Nishi Honganji mae" bus stop on the Kyoto Bus #9,28,75 at Kyoto Station
Time:
5:30~17:00
Admission Fee:
Free
Toji Temple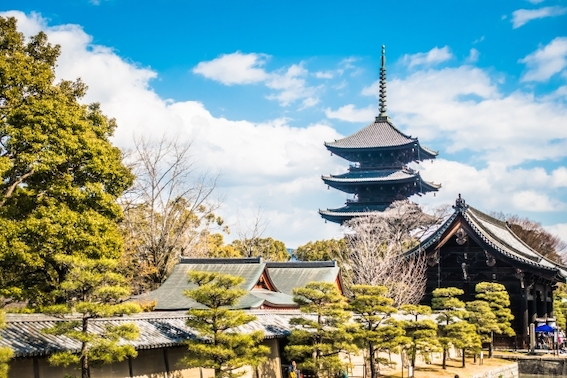 Toji Temple was founded at the beginning of the Heian Period just after the capital was moved to Kyoto in the late 700s. It was established in 794 by imperial decree to protect the city. In 823 the emperor handed it over to Kukai, the founder of the Shingon school of Buddhism. Though many of the temple buildings have been repeatedly damaged or destroyed by earthquakes and fires, they have always been rebuilt with the original layout, just as they did 12 centuries ago.
The best place to see is the Kodo, or Lecture Hall. It houses nineteen statues imported by Kukai from China, which are arranged according to a mandala with Dainichi Buddha (Vairocana) at the center, surrounded by buddhas, bodhisattvas, and the fearful and guardian kings. It is said to represent the spiritual universe. Sixteen national treasures and five important cultural properties offer an excellent experience.
The temple holds a market on every 21st. If you' 're interested in it, please check it.
【Information】
Address:
1, Kujo Cho, Minami Ku, Kyoto, 601-8473
Access:
A 10-minute walk from "Kyoto Station"
A 5-minute walk from "Toji" Sta. on the Kintetsu line
A short walk from "Toji Higashimon" bus stop
Time:
Gate/ 5:00~17:00
The Kondo, The Kdo/ 8:00~17:00
Treasure Hall/ 9:00~17:00
Admission ends thirty minutes before closing time
Admission Fee:
800 yen (Adult), 700 yen (Older than 15-year old ), 500 yen (Younger than 15-year old)
500 yen (Adult), 300 yen (Younger than 15-year old)
-General admission includes entry to the Kondo and Kodo and allows you to view the Five-Storied Pagoda from outside (but not to enter the pagoda).
-The Miedo Hall and Jikido Hall can be entered free of charge year-round.
-The rates are per person in Japanese yen.
-Admission is free for preschool-age children and infants.
Do you need more information?
You should receive such local information of Kyoto by an application "KoI APP".
With this application, even if you don't have Wi-Fi, you can find nearby stores and so on.
You can install the application from the following URL.