Midnight Nenbutsu (Chanting Sutra) is a part of Gyoki Daie.
Gyoki Daie is the largest and most important service held at Chion-in.
During the service, various events are held, such as flower-offering ceremony, music ervices, a ho-jo-e (a ceremony in which fish, insects and birds are set free, symbolizing Buddhism's prohibition against killing) and chanting the nembutsu at midnight.

Midnight Nenbutsu has last for 22 years.
You won't forget the name, will you?
It's held on the top of Sanmon that is the national treasure from 8:00 p.m to 7:00 a.m.
The participants are mainly Parishioner believers though, the number of young ages, ouples, and friends has increased these days.
1800 people took participate in the Midnight Nenbutsu a certain year.
It was a highest number ever, so people had had to wait for entering Sanmon for 1 hour even over the midnight.

It's good for tourist not to need the admission fee and any application.
If you are interested in this event, don't hesitate to join in.
Of Course, it's a quite important ritual for Chion-in temple.
Participants must pay their respect to them.
This kind of opportunity is rare and it's for beginners.
Midnight Nenbutsu will be a great experience for you.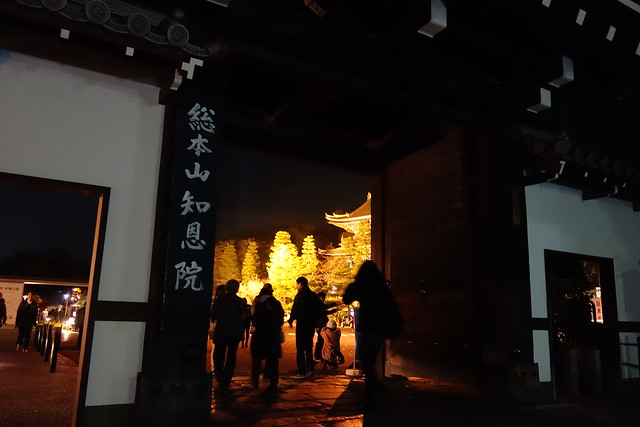 What to see?
There are two good point to see for Midnight Nenbutsu.
First one is the venue.
The venue is on the top of Sanmon, usually closed to public.
It has a height of about 24 meters, a width of about 50 meters, and about 70,000 roof tiles. This is one of the largest wooden tower gates in existence in Japan.
Only during the special event, visitors can see the Shiraki-no-hitsugi (the Plain wood offins), one of Chion-in's seven wonders and the glorious adornments in their brilliant colors.

Second, the reason why so many people take part in is that they can feel at one with others.
During the event, participants are given the mokugyo (fish-shaped wooden temple drum) one by one and chant nenbutsu with salmons while beating mokugyo.
After the event, the participants said,
"It feels very nice."
"I was moved because I could feel harmony with others."
"It made me relaxed even the first time to join."

Even beginners can enjoy the event.
So why don't you take part in?

Place:
Chion-in temple

Address:
〒605-8686 400 Rinka-cho, Higashiyama-ku Kyoto,

Access:
(Bus from Kyoto St.)
City Bus 206→(23min.)→Chion-in mae→(5 min-walk)→Chion-in
(Train from Kyoto St.)
Karasuma Subway line→(6min.)Karasume oike St.→Exchange Tozai Subway line→(5 min.)→Higashiyama St.→(8 min-walk)→Chion-in

Time:
April 18,19 8:00 p.m 〜7:00 a.m

Admission Fee:
Free


Do you need more information?
You should receive such local information of Kyoto by an application "KoI APP".
With this application, even if you don't have Wi-Fi, you can find nearby stores and so on.
You can install the application from the following URL.
Android app「KoI Service」
iPhone app「KoI Service」