☆It sounds luxurious! What is "Golden Week"?
Golden week is a week-long holiday in early May.
It includes four national holidays,starting with Showa Day on April 29th and ending with Children's Day on May 5th.
However, this year is exceptional.

The Emperor is scheduled to abdicate on April 30, followed by the ascension to the throne of the new Emperor on May 1 which will be made a national holiday. As a result, April 30 and May 2 will also become national holidays (because according to law, a day between two holidays also becomes a holiday), creating an unprecedented, consecutive 10-day holiday from April 27 to May 6.

Trains, airports and sightseeing spots get very crowded during Golden Week, and accommodation in tourist areas can get booked out well in advance.

There is never happened all stores are close, but instead of open during GW, most stores planned to close after GW.
So if you worry about that, please check their HP in advance.

An event recommended during Golden Week
Considered one of the three most important festivals in Kyoto, the Aoi Matsuri takes place on the 15th of May each year.
It is held by the important Kamo Shrines, Kamigamo Shrine and Shimogamo Shrine.

Leading up to the Aoi Matsuri are many interesting and exciting pre-rituals and ceremonies.

May 1st / Kamo Kurabeuma Eashi Soroe Ritual
Kamo Kurabeuma Ashie Soroe Ritual is a kind of reharsal for the Kamo Kurabeuma, occurs at Kamigamo Shrine on May 5th.

Time:
13:00~
Venue:
Kamigamo Shrine

May 3rd Yabusame contests
Yabusame contests are usually held in the grounds of Shinto Shrines, because the events are staged primarily for the entertainment of the kami (gods/deities). The entertainment of the human onlookers is secondary. Sumo is another sport that has its roots in kami entertainment.

Time:
13:00~
Venue:
Shimogamo Shrine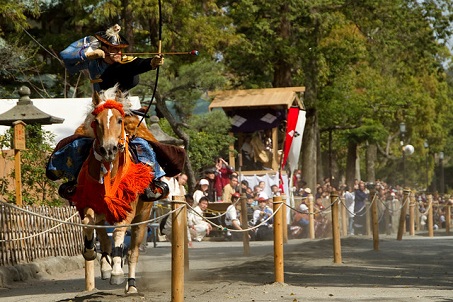 May 4th / Saiodai Gyokei Ritual
The Saio was a young female member of the imperial family who served as the high priestess of the Kamo Shrines.
An unmarried woman from Kyoto is selected each year to serve as Saio.
She must go through purification ceremonies before the festival, and is taken through the procession on a palanquin.

Time:
10:00~
Venue:
Shimogamo Shrine

May 5th / Busha shinji
A group of archers wearing period costumes shoot arrows to ward off evil in a purification ritual.

Time:
10:00~
Venue:
Shimogamo Shrine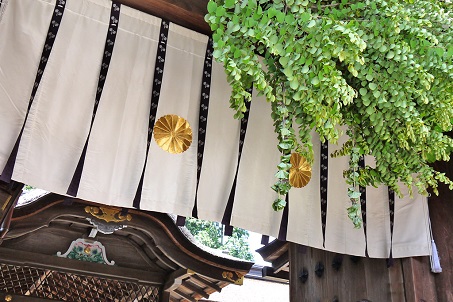 May 5th / Kamo Kurabeuma
The Kamo Kurabeuma is said to be the origin of horse racing in Japan.
Two men in traditional cloth ride on the horses and race each other to hope peaceful and rich harvest.

Time:
13:00~
Venue:
Kamigamo Shrine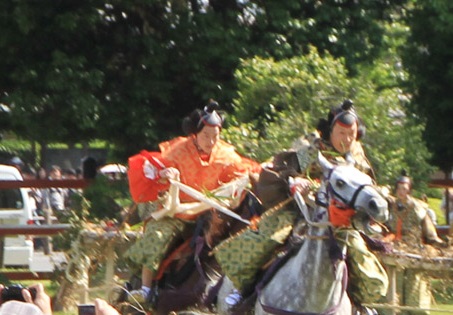 Location of Shrine
Kamigamo Shrine
39 Kamigamo Motoyama, Kita-ku, Kyoto
City bus 4,9 "Kamigamo jinja mae" or "Kamigamo misono bashi"
15 minute walk from "Kitayama St." on Karasuma Subway line

Shimogamo Shrine
59 Izumikamo cho, Sakyo ku, Kyoto
City Bus 4,205 "Shimogamo jinja mae" or "Tadasu no mori mae"
12 minute walk from "Demachiyanagi St." on Keihan line

Let's enjoy more Kyoto with the app ♪
The number of tourists has increased in Kyoto.
Transportation and sightseeing spots get more crowded during Golden Week.
・You have to wait for the popular restaurant for several hours.
・You'd like to visit a little-known but good place.
・You want to try the shop in a back alley but has few info.
KoI app. help you out this matter.
It offers nearest restaurants or discounts of experience facilities.
Download here↓↓
Android app「KoI Service」
iPhone app「KoI Service」