Shojuin Temple is located at the Southern area of Kyoto Prefecture and surrounded by mountains.
This temple is famous for its heart shaped window for various range of generations.
The shape of heart used for preventing a building from evil spirits and some unfortune things.
The heart shaped window at the guest house in the site shows the beauty of Japan's four changing seasons, so many tourists visit and take a picture in front of it.
Shojuin Temple holds the Wind Bell Festival in the site.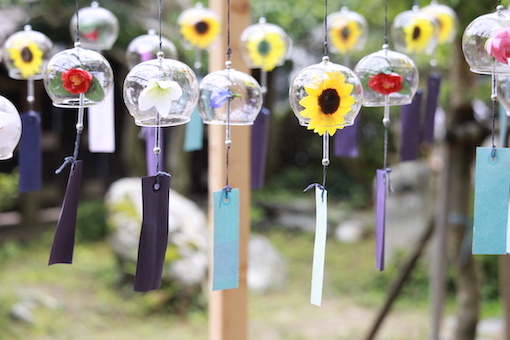 2,000 wind bells are displayed along the path to the main hall.
They are painted various kinds of flowers and fireworks and the blue wind bells and red ones are very cute.
It must be a great photo you standing under them.
Visitors relax and enjoy taking the time at the temple with a cup of green tea and Japanese sweets.
The sound of wind bells make you feel cool and the place of Shojuin Temple, Tahara cho area, is cooler by five degree than the center of Kyoto city.
It could be a great atmosphere for the visitors from urban area to care their feeling.
Wind Bell was a charm against evils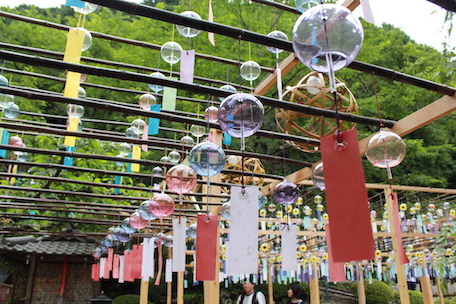 The origin of a wind bell is bronze wind bells hanging from eaves of temple towers or halls.
It was said that the precinct where the bell is ringing is considered sacred in old age.
The wind bell spread into the public as a charm against evils.
Information
Address:
149, Okuyamada Kawa Kami, Uji Tahara cho, Tsuzuki gun, Kyoto
Time:
9:00~16:30
Access:
"Ichu mae" bus stop on the Keihan Bus to "維中前・緑苑坂工業団地前行" at Uji Station on the JR/ Keihan line.
Admission Fee:
700 yen (Included a cup of tea, Japanese sweets and admission fee for the guest hall)
Do you need more information?
You should receive such local information of Kyoto by an application "KoI APP".
With this application, even if you don't have Wi-Fi, you can find nearby stores and so on.
You can install the application from the following URL.