We absolutely admire its utmost beauty plum blossom in Kyoto is an amazing outdoor experience.
The plum is associated with the start of spring, because plum blossoms are some of the first blossoms to open during the year.
In most area of Kyoto, they typically flower in Late February and March.
The event is celebrated with plum festivals (ume matsuri) in public parks, shrines and temples across the country.
Like cherry trees, plum trees come in many varieties. Most plum blossoms have five petals and range in color from white to dark pink. Unlike cherry blossoms, plum blossoms have a strong, sweet fragrance. Kyoto offers endless discoveries and breathtaking experiences that you can't find in other countries.
This time, we highly recommend you explore the blossoms in the public parks or gardens, and on the grounds of sacred temples & Shrines.
1.Kyoto Ume Koji Park
Plum trees here flower in the earliest in Kyoto.
This park is originally from plum street in Heian palace at that time.
There are 140 plum trees and 14 kinds of them in "Ume komichi ( Plum path)".
The park will hold the Ume festival from February 23rd to March 3rd.

Address:
〒600-8835 56-3, Kankiji-cho, Shimogyo-ku, Kyoto City

Access:
10 minute walk from JR Kyoto Station

Admission Fee:
Free

Hours:
10:00~15:00

2.Kyoto Imperial Palace
It is located in the spacious Kyoto Imperial Park (Kyoto Gyoen), an attractive park in the center of the Kyoto City.
It is famous for not only cherry trees but plum and peach trees.
There are 200 plum trees in the park and the park had received plum trees by a lot of shrines in Kyoto in 1940's.
The good timing for viewing would be from the end of February to the end of March. Around the end of March, visitor could see weeping plum trees and cherry blossoms.

Address:
〒602-0881 3,Kyoto Gyoen, Kamigyo-ku, Kyoto City

Access:
1 minute walk from Marutamachi Station along with Karasuma line subway

Admission Fee:
Free

Hours:
9:00~16:30 (Close: Mondays)

3.Nijo Castle
The Nijo castle features a plum orchard, which is typically in bloom from late February to early March.
Plum trees of numerous varieties are planted throughout the castle, including 100 plum trees of blooming varieties in a plum orchard.
The most famous tree is "Genpei Saki wake", which flowers in both white and red colors in a tree.

Address:
〒604-8301 541, Nijyo-jyo-dori HorikawaNishiiru Nijyo-jo-cho, Nakagyo-ku, Kyoto City

Access:
5 minute walk from Nijyo-jyo mae Station along with Tozai line subway

Admission Fee:
600 yen (Aduly), 350 yen(Middle School Student), 200 yen (Elementary School Student)

Hours:
8:45~16:00(Close 17:00)

4.Jyonangu- Gardens and Graves
South of Kyoto station is Jonangu, a shrine that is rarely seen by foreigners because there seems to be no mention of it in most tour guides and books.
Jonangu has two areas, one is the Shrine Area which is for praying, the other one is the Garden Area which has some gardens around the main hall.
The Harunoyama gaeden provides not only beautiful plum blossoms but camellia blossoms. Approximately 150 plum trees of different varieties and 300 camellia trees of 32 kinds can be found at plug grove of Jonangu.
In addition, every morning (10:00 a.m.), shrine maidens offers "Ume branch Kagura dance" and the shrine offers tea ceremony at the tea house. Visitors can enjoy seeing the blossoms with drinking maccha green tea and having Japanese sweets.

Address:
〒612-8459 7, Nakashima Tobanorikyu-cho, Fushimi-ku, Kyoto City

Access:
15 minute walk from Takeda Station along with JR or Karasuma line subway

Admission Fee:
600 yen (Adult), 400 yen(Middle-Elementary School Student),

Hours:
9:00~16:30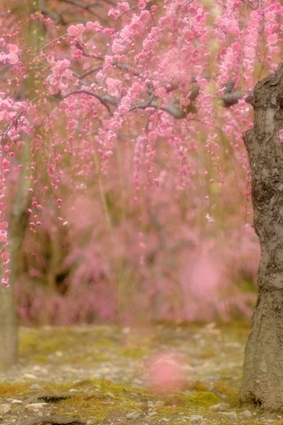 Do you need more information?
You should receive such local information of Kyoto by an application "KoI APP".
With this application, even if you don't have Wi-Fi, you can find nearby stores and so on.
You can install the application from the following URL.
Android app「KoI Service」
iPhone app「KoI Service」