February is when the annual Setsubun rituals are held throughout Japan at local shrines and temples. Be sure to enjoy the unique experience of expelling evil spirits, praying for good health and luck, and eating ceremonial beans.
This time, I'm going to write about the fascinating Setsubun festival, which is celebrated at shrines around the Kyoto city.

What is the "Setsubun"?
The literal meaning of the word Setsubun is "division of the seasons,". So it refers to the day before the beginning of each season (the first days of spring, summer, fall, and winter). Out of all the four Setsubun days, spring is the most special day. Though ancient people held the Setsubun festival for four times in a year, nowadays, it is normally thought that just February 3rd is the day of Setsubun.

It is believed that oni (evil spirits) come when the seasons change in Japan. People scatter roasted soybeans both inside and outside of their houses. Throwing roasted soybeans was first practiced back in the Heian period, to stop oni from attacking villages by throwing beans at their eyes.
At homes, people throw roasted soybeans out the door of their houses while shouting" Oni wa soto! Fuku wa uchi! " (Devils out! Good luck in!).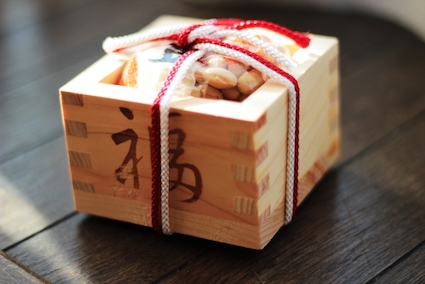 There are about 4000 shrines and temples in Kyoto. Setsubun celebration will be held throughout in Kyoto. "Yomo-Mairi" (Visiting four guardians for unlucky directions) is popular for many people; Yoshida shrine, Mibu temple, Kitanotenmangu shrine, Yasaka shrine. They'll hold unique events to watch, so don't miss that.

"Yomo-Mairi" (Visiting four guardians for unlucky directions)
Yoshida shrine
It's a cool place to observe Setsubun. There are also plenty of stalls selling food and drinks. On February 2nd, "Tsuinashiki (ceremony to drive out evil spirits)" is held from around 18:00. Hososhi who wears a mask with four golden eyes were responsible for expelling red, blue, and yellow oni.

Date
February 2nd 18:00~ Tsuinashiki
February 3rd 23:00~ Karosai (bonfire)
Access
5 minutes walk from "Kyodaiseimonmae" by Citybus
20 minutes walk from "Demachiyanagi St." by Keihan line

Address
30 Yoshidakaguraoka cho Sakyo ku Kyoto City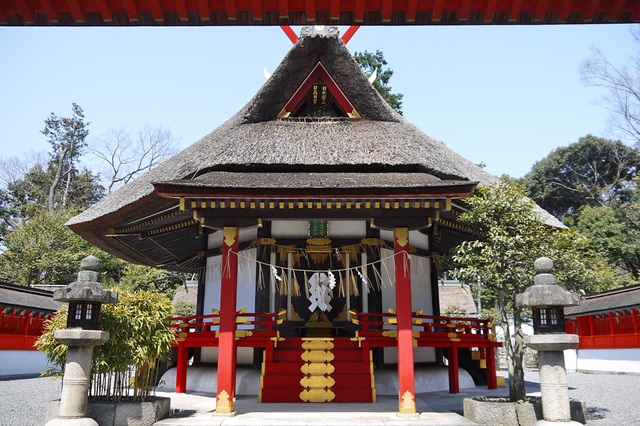 Yasaka shrine
Kyoto's Yasaka shrine is a great one, because the soybeans are thrown by geisha from the nearby Gion geisha district.

Date
February 2nd,3rd 16:00~ Throwing soybeans

Access
5 minutes walk from "Gionshijyo St." by Keihan line
8 minutes walk from "Kawaramachi" by Hankyu line
Just in front of "Gion" by City Bus

Address
625 Gionchokitagawa Higashiyama Ku Kyoto City


Mibu temple
Mibu temple has more than 900 years of history. They'll hold the Kyogen play which is a humorous and educational story at Kyogen-do hall.

Date
February 2nd,3rd,4th 8:30~21:30
*Kyogen play holds every once an hour from 13:00 to 20:00.

Access
9 minutes walk from "Shijo-Omiya" by Arashiyama line
9 minutes walk from "Omiya" by Hankyu line

Address
31 Mibunaginomiya Cho Nakagyo Ku Kyoto City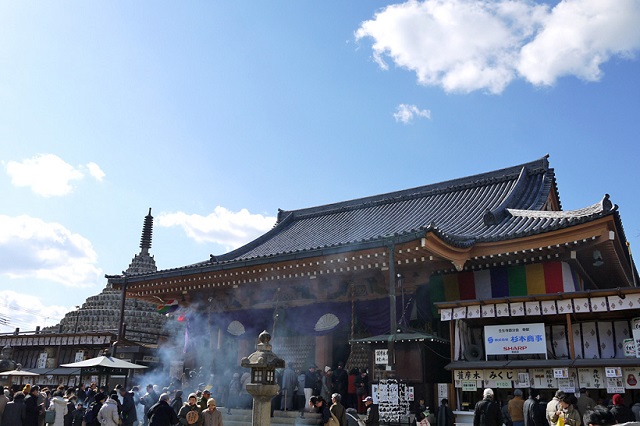 Kitanotenmangu shrine
It is said that Oni finally escaped to Kitanotenmangu shrine, then they are put into "Fukubesya". The shrine also holds the Dance dedication from geiko and throwing soybeans ritual.

Date
February 3rd 10:00~ Tsuinashiki / 13:00~Rituals, Throwing soybeans

Access
Just in front of "Kitanotenmangu mae" by Citybus

Address
Bakurocho, Kamigyo Ward, Kyoto, 602-8386

Do you need more information?
You should receive such local information of Kyoto by an application "KoI APP".
With this application, even if you don't have Wi-Fi, you can find nearby stores and so on.
You can install the application from the following URL.
Android app「KoI Service」
iPhone app「KoI Service」