Are you interested in a japanese culture and religion?
Lucky you! There is a rare exhibition in Kyoto in November.
☆Shown a Buddhist Sutra from 1200 years ago☆
Kyoto was visited by the plague 1200 years ago.
On the advice of the founder of the sect,Kukai, Emperor Saga wrote a Buddhist Sutra(copied Buddhist scripture)
to pray for people who suffered from plague.
After this, it truly expelled the epidemic and people were able to live in peace.
This Buddhist Sutra is a classified in Daikaku-ji.
The interior is not open to the public and the doors are only opened once every 60 years.
That means you will be able to see this Sutra in 2078 at the next time!
Don't miss this Holy one!
If you visit near Arashiyama in Kyoto, I recommend it.
・Place : Daikaku-ji temple
・The time period: October 1st ~ November 30th
・Opening hours: 9 a.m to 5 p.m
・Admission Fee: A flat sum of 1,000 yen
・Access:16 minutes from JR Kyoto Station. Get off at "Saga Arashiyama Station" in JR San-in line
・Address: Saga-osawa-cho 4, Ukyo-ku, Kyoto 616-8411


"Do you know what is the most popular Sutra in Japan?
First of all, what kinds of Sutra copied by Emperor Saga?
Actually, there is not only one Sutra, so you can choose anything for copying a Buddhist Sutra.
However, "Hannyashingyo" is one of the most popular Sutra in Japan.
This Sutra is chanted by some sects and even ordinary people.
The founder of the esoteric Buddhism,Kukai brought it via China and India.
Kukai explained the blessing of Hannyashingyo:
"If you are with this Sutra,recite it, understand it, and follow it, you can receive the blessing.
If you consider it meaning, then you can find the way you are and possess the divine powers."
True to his words, the blessing has been exhibited from ancient times.
Many prominent people chanted or copied it.
And more, it is fine to chant it in Shrine or in front of your home Shrine.
It is said that the Gods are pleased when people chant "Hannyashingyo".
It might be a one of the reason why Hannyashingyo is so popular.
Next, Why people copy the Buddhist Sutra?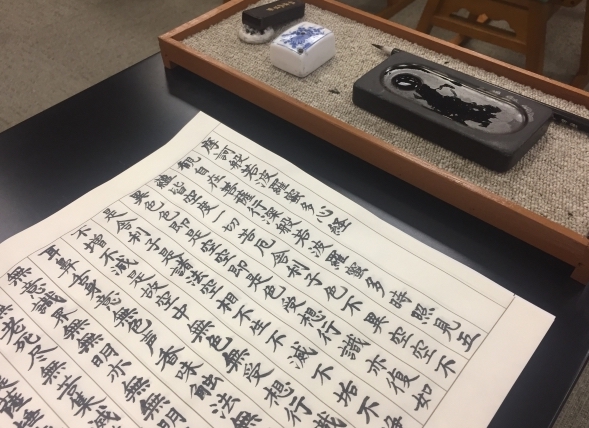 "What is the secret of copying the Buddhist Sutra?"
Copying the Buddhist Sutra is a one of the asceticism, which is for the obliteration of the ego.
Any paper,any rough brush, any poor writing, you don't need to care too much. Writing a word by word with your heart is the most important thing.
As the saying is "If you copy the Buddhist Sutra, one's disease get better.".
It might be affected by a story of Emperor Saga copying the Buddhist Sutra.
In Japan, people believe " A word has own power." It is called " Kotodama (= the spirit of language). Many people know this, but it is not so much known " A letter has own power as well as a word.".
It is true Hannyashingyo itself brings blessings, but it is not all. Emperor Saga wrote each characters of the Hannyashingyo with his pray,yes, it worked! It drove away the plague and brought blessing.
Each letter still has power,even though 1200 years has passed.
It is really a rare exhibition in Kyoto in 2018!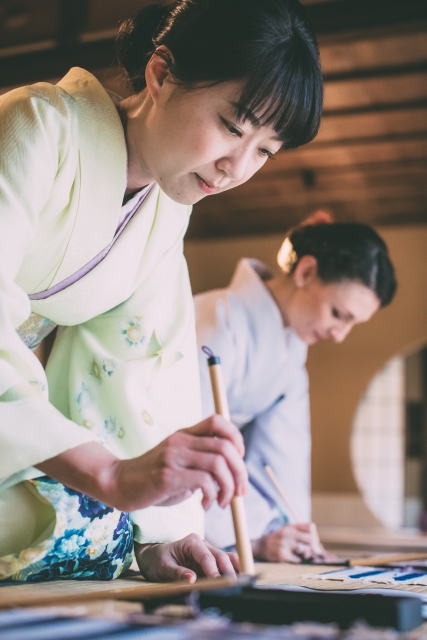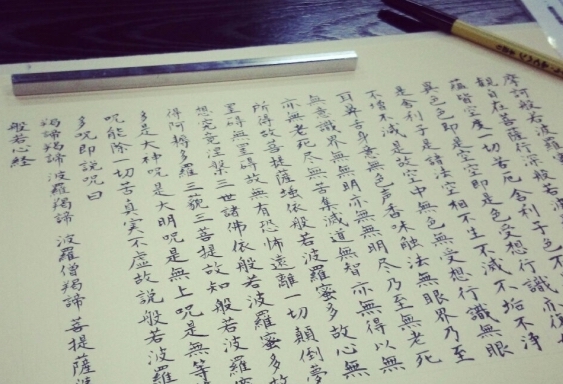 By the way, you can receive such local information of Kyoto by the application.
With the application, even if there is no Wi-Fi, you can find nearby stores and so on.
You can install the application from the following URL.
Android app「KoI Service」is here.
iPhone app「KoI Service」is here