Kyo no Tanabata is a Star Festival held at Kyoto in August.
It's quite hot and humid during the daytime in summer, so Kyoto would like to offer some activities or events at night like illumination for tourists.
The venues in the city are separated for four areas and they will be held an illumination event and vendors for food.
Horikawa Area
Nijo Castle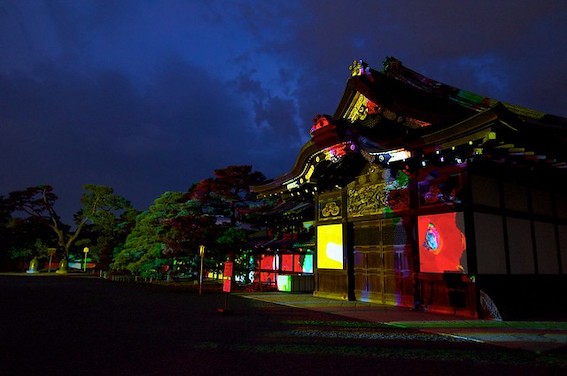 At Nijo Castle, Ninomaru garden will be lit up and gorgeous Kara-mon gate will be also put on the illumination.
The main feature event will be a projection mapping show on the gate and walls.
You can enjoy Maiko Chaya that Maiko will dance a traditional dance.
The event won't be crowded as Gion Matsuri.
Date: August 1st ~15th
Light Up Time: 19:00~21:30 (Last Entrée 21:00)
Venue: Nijo Castle; 541, Nijo-jo cho, Nakagyo ku, Kyoto
Admission Fee: 600 yen per adult, 350 yen per 13~18 years old, 200 yen per elementary school students
Horikawa Walkway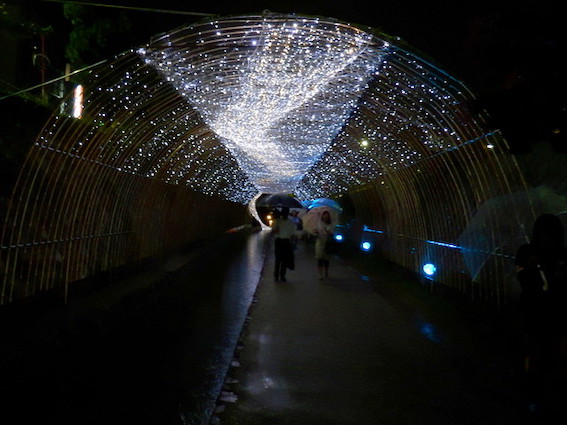 Bon fire will be lighting along the Horikawa walkway decorated with bamboos and lights as Tanabata.
Bamboo and Lights walkway makes it seem as if you're passing beneath a sparkling path of stars.
Many events held by a municipal corporation and univercities line the street.
It's a good opportunity to wear a yukata and stroll Kyoto.
Date: August 10th ~12th
Light Up Time: 18:00~21:00
Venue: Horikawa Walkway; Shimotashiuri Street ~ Ichijo modoribashi Bridge (下立売通~一条戻橋付近)
*The walkway is a one-way road during the event.
Kamogawa Area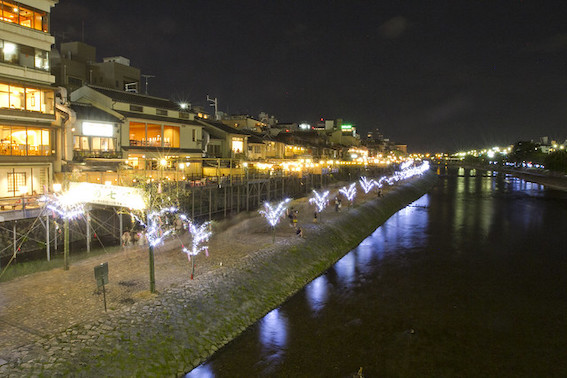 Cleverly woven bamboo spheres illuminated from within sit glowing in the grass by the Kamogawa River.
Food stalls line the riverside, offering domestic featured food.
You can enjoy it while walking along the river.
Date: August 3rd ~4th
Light Up Time: 19:00~21:30 (21:00 on 4th)
Venue: Kamogawa River
Kitano Kamiyagawa Area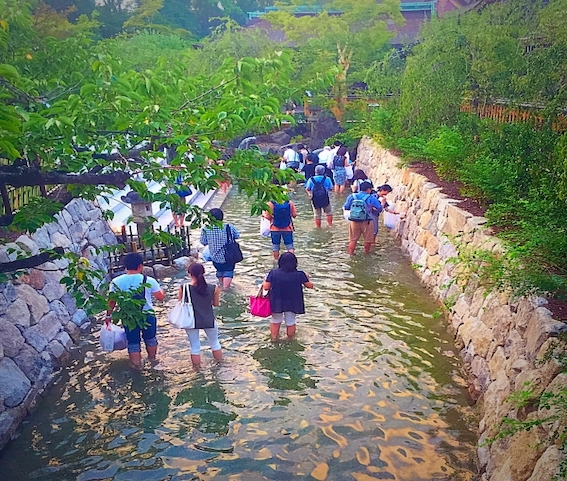 Kitano Tenmangu Shrine will be decorated with tanabata bamboo and lights.
Mitarashigawa Ashitsuke Tomyo Shinji, Foot Bathing and a votive light ritual, is a feature event. (August 10th ~ 12th / 16th ~18th, 9:00~20:00, 300 yen for a candle)
Shimogamo Shrine is also famous for Foot Bathing Event and the difference of the is a candle.
Kitano Tenmangu Shrine has five different colors and meaning candles.
Date: August 10th ~ 12th / 16th ~18th
Light Up Time: Sunset ~20:30
Venue: Kitano Tenmangu Shrine, Kamishichigen Area, Imadegawa Street Kitano-monzen Area, Kitano Shotengai Street Area, Daishogun Shotengai Area
Umekoji Area
The Umekoji park will be lit up with lanterns and illuminations.
Some food stalls line up in the Grummet Area on holydays in August.
Date: August 2nd ~12th
Light Up Time: 19:00~22:00
Venue: Umekoji Park; 56-3, Kankiji cho, Shimogyo ku, Kyoto)
Do you need more information?
You should receive such local information of Kyoto by an application "KoI APP".
With this application, even if you don't have Wi-Fi, you can find nearby stores and so on.
You can install the application from the following URL.