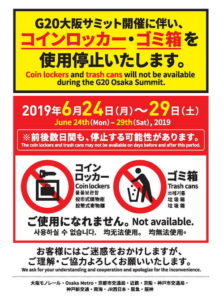 Due to the opening of the G20 Osaka Summit, coin lockers and waste receptacles at major stations around the Kansai area, including Kyoto Station, will not be available for use from June 24th (Mon.) to June 29th (Sat.), 2019.
JR central will take measures to strengthen several security measures onboard Shinkansen trains and coin lockers at certain stations. Waste receptacles at certain stations will also be restricted.
Coin Lockers at certain stations will be made unavailable, most especially at Kyoto Station and Shin-Osaka Station which are located near the summit.
6/25(Tue)~6/27(Thurs) New storages suspended
6/28(Fri),6/29(Sat) Locked (Unavailable)
*Please be sure to remove any stored luggage before midnight on June 27(Thurs).
Here is the alternative service for coin lockers.
Kyoto Station "hands-free travel" luggage-check service to hold any luggage
●"HANDS FREE KYOTO" Service Counters near Kyoto Station below.
https://hands-free-kyoto.jp/counters/
Due to traffic restrictions and checkpoints in place during the G20 Osaka summit, it is anticipated that traffic delays will occur. It is also expected that Kansai Limousine will be stopped or will be running with significant delays. Please leave ample time before using these services and please check the service situation just before riding.
・Traffic Restriction Dates: 27th June – 30th June 2019
Do you need more information?
You should receive such local information of Kyoto by an application "KoI APP".
With this application, even if you don't have Wi-Fi, you can find nearby stores and so on.
You can install the application from the following URL.