Look at the picture on this page.
You can see the Kanji "Dai "on Higashiyama Mountain on August 16th.
Held on August to bid farewell to the souls of ancestors. Fires are lit at night in the form of Chinese characters on five mountains around Kyoto.
One said that either Kukai or Ashikaga the Eighth began to light the Chinese character "Dai".
The other, the history is mystery. No one knows "who?", "Why?", and "When?"
Even so,Okuribi lasts for a long time and is one of the famous events during the "Obon festival".
What is the "Obon festival"?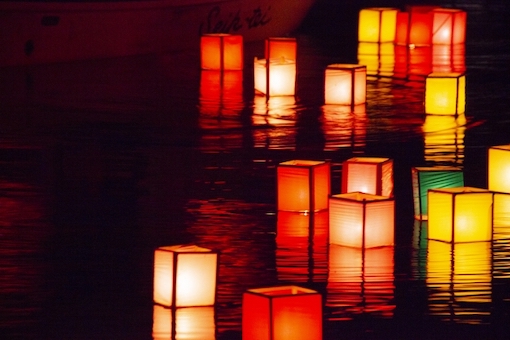 Obon is a three-day Buddhist holiday: August 13th,14th, and 15th.
People believe that Obon is the time of year when the spirits of the dead return to their former homes and families. This festival, "Daimonji", probably originated as a way to guide these spirits back to the spirits world. Burning the firewood makes the dark night brighter.
What to do for Gozan no Okuribi
People visit each shrine to get Gomaki(護摩木) for the repose of one's ancestor's soul before the event.
The five send-off fires consist of the kanji character for "big" on two mountains, two kanji that form Myoho (wondrous dharma) on two others, and two bonfires made into shapes like a boat and a torii gate.
The fires are lit each by one at 20:00, then people gather at the streets, along the river, and in tall buildings to watch them.
When the fire is put out, people take the charcoal powder as a charm to ward off evil spirits.
Information
Daimonji (Nyoigatake, Daimonji Mountain) | 大文字
Time of Lighting: 20:00
Gomaki:
August 15th/12:00~19:00, August 16th /6:00~14:00 @Ginkaku-ji
Viewing Spots:
– Kamogawa River (from Marutamachi to Misonobashi Bridge)
– Dōshisha University's Kanbaikan Building
Myo-Hō (Mount Mandōrō and Mount Daikokuten) | 妙法
Time of Lighting: 20:05
Gomaki: n/a
Viewing Spots:
– Kitayama Street near Matsugasaki Station
– North of Takanobashi Bridge
– Takaragaike Driving School
Funa-gata (Mount Funa Nishigamo) | 船形
Time of Lighting: 20:10
Gomaki:
August 15th/8:00~16:00, August 16th /8:00~10:00 @ Saihō-ji
Viewing Spots:
– Misonobashi Bridge
Hidari Daimonji (Mount Okita) | 左大文字
Time of Lighting: 20:15
Gomaki:
August 15th/9:00~15:00, August 16th /7:00~14:00 @Kinkaku-ji
Viewing spots:
– Nishiōji Street
Torii-gata (Mount Mandara) | 鳥居形
Time of Lighting: 20:20
Gomaki:
August 15th/10:00~16:00, August 16th /9:00~15:00 @Adashino Nenbutsu-ji
Viewing Spots:
– Matsuobashi Bridge
– Hirosawa no Ike Pond
Do you need more information?
You should receive such local information of Kyoto by an application "KoI APP".
With this application, even if you don't have Wi-Fi, you can find nearby stores and so on.
You can install the application from the following URL.